International civil society conference on the Sustainable Development Goals (SDGs), agriculture and fisheries – Cameroon
September 11, 2018

-

September 13, 2018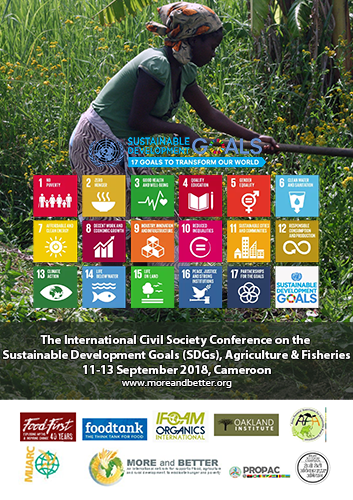 "More and Better" Network invites you to their International civil society conference on the Sustainable Development Goals (SDGs), agriculture and fisheries that will be held in Cameroon, 11-13th September 2018.   The main objectives for the conference are:
To show that agroecology and other forms of sustainable agriculture and fisheries  are key to reach many of the SDGs.
To strengthen the arguments and increase the pressure on governments and international institutions  to increase the financial  and political support for agroecology and other forms of sustainable agriculture and for small-scale sustainable fisheries.
To share experiences and strengthen the cooperation among and between farmers' and fisherfolks' organizations, other non governmental organizations (NGOs) philanthropic foundations and others which support the objectives of the conference.
130 organizations have signed on to the letter on the SDGs and agriculture which the More and Better Network invited other organizations to sign on to. The letter  is also a base for the conference. See it at www.moreandbetter.org 
Participate in the conference! 
More and Better hopes you / your organization will take part in the conference. Please fill in the registration form before August 20th.
We have got some financial support to fund parts of the costs for some participants. If you want to apply for financial support for the participation, please fill in the application form before August 10th.
For more information and questions, please send a mail to secretariat@moreandbetter.org   or to Aksel Naerstad, international coordinator; aksel@moreandbetter.org
The conference is supported in part by the Karibu Foundation.