Our monthly e-newsletter, "Voices from the South," highlights voices from the Global South that provide alternatives to the dominant paradigms of power, distribution, and development.
We invite you to subscribe, and receive approximately one email each month. You can subscribe by clicking the "subscribe" button below, or by clicking here.
If you would like to submit an article to Voices from the South, please feel free to email us for more information: voices@karibu.no.
Current edition: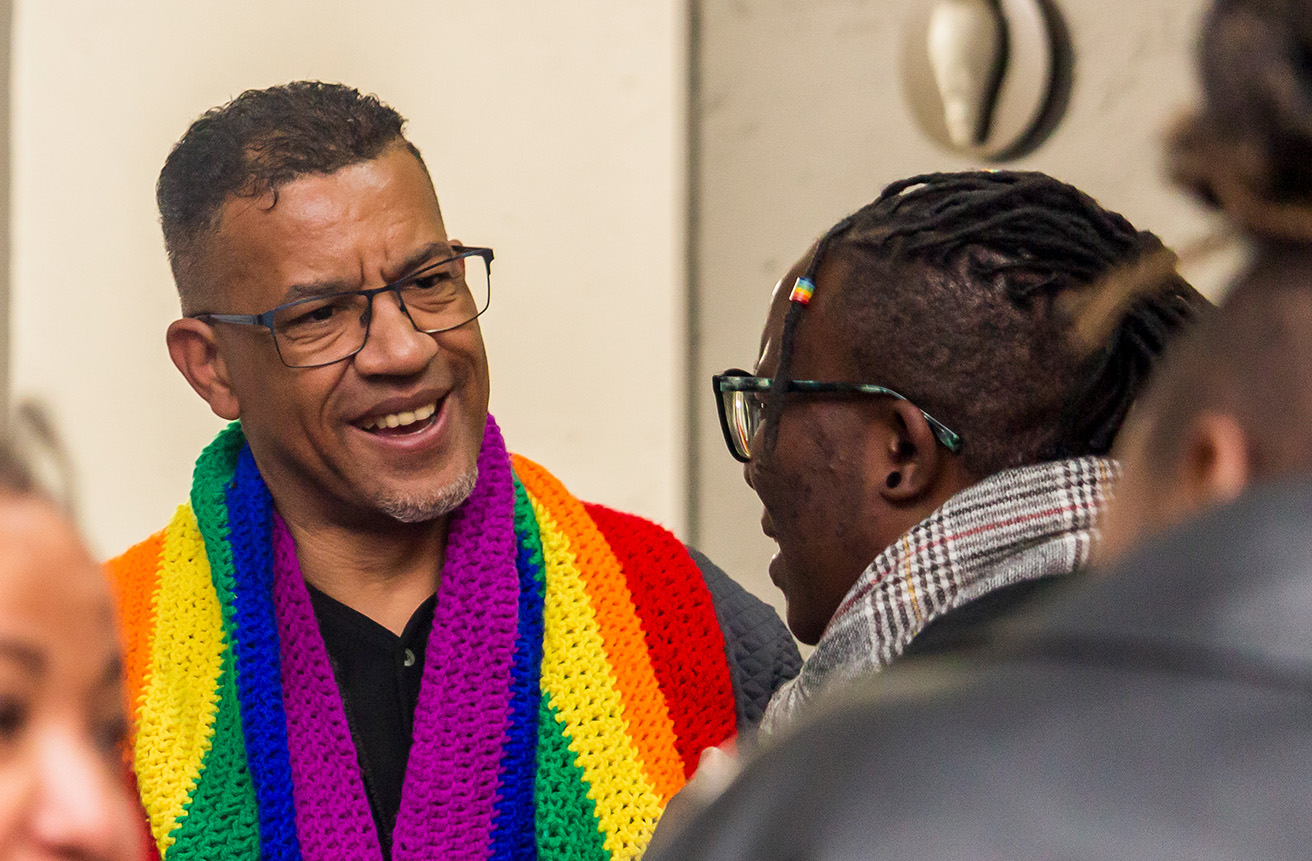 Gomo Lesejane (South Africa) writes on the efforts made to lend a voice to deliberately silenced LGBTIQ+ communities in Africa.
Archive:
| Image | Title | Summary | Author | Organization | Date |
| --- | --- | --- | --- | --- | --- |
| | A constructive religious voice on LGBTIQ+ rights needed for Africa | Gomo Lesejane (South Africa) writes on the efforts made to lend a voice to deliberately silenced LGBTIQ+ communities in Africa. | Gomo Lesejane | Inclusive and Affirming Ministries (IAM) | March 2023 |
| | The political economy of South-South relations: China's investments in Brazil and South Africa | Ana Garcia (Brazil) writes on South-South investments (specifically China's involvement in Special Economic Zones in Brazil and South Africa) and their impact on the rights of workers, communities and the environment. | Ana Garcia | BRICS Policy Center | February 2023 |
| | Daring to invent the future: African social movements converging for change | Activists and social movements from 30 different African countries recently gathered in Johannesburg, South Africa for the 2022 "African Social Movement Baraza". Briggs Bomba (Zimbabwe) discusses the historic moment we are living in, and the need for a space and process like the "Baraza". | Briggs Bomba | Trust Africa | October 2022 |
| | Didipio: From a people's barricade to the push for a people's green new deal | Movements in the Philippines are carrying forward lessons from resistance to mining operations as they push for a "People's Green New Deal". Read more about the story of the village of Didipio from Jon Bonifacio – coordinator for Yes to Life No to Mining Southeast Asia (YLNM SEA). | Jon Bonifacio | Yes to Life, No to Mining - Southeast Asia (YLNM SEA) | September 2022 |
| | Meaningful participation now! Advocating for migrants' rights at the UN | A trio of Karibu activist partners (Eni Lestari, Rey Asis, and Mervin Toquero) advocated for the rights and participation of migrants during the recent UN "International Migration Review Forum" (IMRF). See the videos of their speeches and read the transcripts here. | Eni Lestari, Rey Asis, and Mervin Toquero | International Migrants Alliance, Asia Pacific Mission for Migrants, and Churches Witnessing with Migrants | August 2022 |
| | Facing the wave of change: Ways to exist differently | Anna Denardin (Possible Futures, Brazil) writes on the way forward for progressive civil society in unstable and dramatic times. | Anna Denardin | Possible Futures | June 2022 |
| | The 2022 World Social Forum: "A different world is possible"… differently | Stiaan van der Merwe (South Africa) provides some of his initial observations, impressions and reflections of the WSF in Mexico City. He argues that there is need for a different kind of individual and collective consciousness, wisdom, and thinking in order to address today's challenges.   | Stiaan van der Merwe | Palestine Solidarity Campaign in South Africa | May 2022 |
| | Shifting power in grantmaking: an update from Africa | The Core Group of Karibu's grantmaking pilot in Africa gives an update on how they are co-creating a grantmaking program where decision-making power is moved closer to movements on the ground. | "Core Group" of the Karibu New Realities Grant | "Core Group" of the Karibu New Realities Grant | March 2022 |
| | How we did it: The rebuilding of the Iraqi Social Forum following COVID-19 | Mahmoud Alhiti and Batool Kareem of the Iraqi Social Forum tell the story about the steps the ISF took in order to set a new course forward following major challenges of the pandemic and social unrest.  Their experiences provide some insight into what other movements in the world might learn … | Mahmoud Alhiti and Batool Kareem | Iraqi Social Forum | February 2022 |
| | Global call to action: WTO waiver now to end the pandemic | A "Global Call to Action" has been issued to call for an emergency suspension of the intellectual property rights on products that would protect, contain, and treat COVID-19. | Our World Is Not For Sale | Our World Is Not For Sale (OWINFS) | November 2021 |
| | What frontline communities need from the UN Climate Change Summit (COP26: Inside advocacy) | Ivan Phell Enrile writes on the "inside" advocacy work of South movements that have gained access to the COP meetings, and the policy demands that they will be working for in Glasgow.  Part II of a two-part series on COP26. | Ivan Phell Enrile | IBON International | October 2021 |
| | The social and climate crisis (COP 26: Outside advocacy) | The "Southern People's Action on COP26" writes the efforts of those movements who have not been able to travel to Glasgow for the UN climate talks and who are mobilizing for "outside advocacy" in the streets.  Part 1 of a two-part series on COP26. | Southern People's Action on COP26 | Southern People's Action on COP26 | October 2021 |
| | Memeing Democracy: How memes are used to engage in political discourse and circumvent censorship in the Global South | R. Vaishno Bharati reflects on how the growing role of "meme culture" around the world has supplemented the efforts of social movements in the Global South. | R. Vaishno Bharati | IT for Change (India) | September 2021 |
| | Collective protest by women victimized by Microfinance: A movement with hope for the future | Amali Wedagedara writes about the 55-day protest of women in Sri Lanka against microfinance, and the collective's shared vision for a new development model in the Global South. | Amali Wedagedara | University of Hawai'i, Manoa | June 2021 |
| | Towards a world without forced migration: 19 key demands from migrant groups in Asia Pacific | What is needed for a world without forced migration? This is the question that migrant groups from across the Asia-Pacific region have asked and presented on during a recent review of the UN's Global Compact on Migration (GCM). We present the "Regional Migrants Agenda" – an advocacy tool that reflects … | Asia Pacific Mission for Migrants | Asia Pacific Mission for Migrants | April 2021 |
| | Inequitable Access to COVID19 Vaccine | K.M. (Gopa) Gopakumar from TWN writes about the need to advocate for the vaccine as a global public good, to scale up production and provide access to efficacious vaccines, and that it is vital to support the current proposal of poorer countries to waive the global TRIPS agreement / WTO … | K.M. (Gopa) Gopakumar | Third World Network (TWN) | February 2021 |
| | No end in sight for 'hunger pandemic,' except through assertion of people's rights | Sarojeni Rengam (Malaysia) writes about how COVID-19 pandemic has also exposed a number of other critical systemic holes in other sectors including agriculture and food production. | Sarojeni V. Rengam | PAN Asia Pacific | December 2020 |
| | Towards a World without Walls | Stop the Wall reflects on the global "World Without Walls" campaign that aims to connect struggles against militarization and discrimination from India to Brazil, from the Philippines to Argentina, from Malaysia to California, and beyond. | Stop the Wall Campaign | Stop the Wall Campaign | November 2020 |
| | Mining industry profits from pandemic | More than 300 organisations from around the world have released an open-statement condemning the ways that the mining industry and numerous governments are taking advantage of the Covid-19 pandemic to manufacture new mining opportunities. | Hal Rhoades / Yes to Life, No to Mining | Yes to Life, No to Mining | September 2020 |
| | Taking back our communities from tourism post COVID – a nine point plan | TAAF lifts up a 9-point plan to reset tourism to a new form of tourism that is based on human rights, justice, equity, local sovereignty, and sustainable development. | Tourism Alert and Action Forum (TAAF) | Tourism Alert and Action Forum (TAAF) | August 2020 |
| | Voices from Latin America: COVID is not an excuse! | We hear from Catalina Balla (Chile) about the work that the COLECTIVA network is doing related to related to challenging the false dilemma many governments are leading us to: that of either health or that of privacy, and 8 proposals to configure the post-pandemic Internet and digital world. | Catalina Balla | Ciudadanía Inteligente | June 2020 |
| | Mapping oppressive measures carried out in the name of COVID-19 | Governments and corporations have historically used crises as opportunities to introduce new policies that would otherwise be impossible to pass, normalizing them in a new status quo. We speak to Sahar Vardi (Israel) about the new work being done now to map out oppressive measures carried out in the name … | Sahar Vardi | AFSC | May 2020 |
| | A rare moment for building the New: Next steps for social movements | Hellen Grace Akwii-Wangusa from Uganda reflects on how the global COVID-19 pandemic has exposed a number of unjust holes in our current economic and political system, while giving a unique opportunity to build a new system that is more just. | Hellen Grace Akwii-Wangusa | Council of Anglican Provinces of Africa (CAPA) | April 2020 |
| | In the midst of Corona turmoil: The struggle for justice in the Philippines continues | A delegation from the EcuVoice network in the Philippines is at the UN, lifting up the voices of those directly affected by human rights violations during a session of the United Nations Human Rights Council in Geneva. | Ecumenical Voice for Peace and Human Rights in the Philippines (EcuVoice) | EcuVoice Philippines | March 2020 |
| | A Pacific resistance to Blue colonization | Social movements around the world have raised serious concerns that the new emphasis on "blue growth" can actually be understood as a form of "blue colonization". Joey Tau (Papua New Guinea) of the Pacific Network on Globalization (PANG) writes on the dangers of the "blue economy" and deep-sea mining, the … | Joey Tau | PANG | February 2020 |
| | A message from the Iraqi people: War leads to destruction, displacement, and a lost future for millions of children | Iraqi social movements call for a stop to military escalation between the U.S. and Iran, a stop to ALL new wars, and a stop to any further militarization of the region. | Iraqi social movements in Tahrir square | Iraqi social movements in Tahrir square | January 2020 |
| | The social crisis is also an ecological crisis | Sociedad Civil por la Acción Climática (SCAC) condemns the decision of non-hosting COP25 in Chile and analyzes the political, social and environmental challenges facing Chile and Latin America. | Sociedad Civil por la Acción Climática (SCAC) | SCAC | October 2019 |
| | Resisting with the logic of love in Palestine and Israel | Karibu speaks with Sama Anfous of Kairos Palestine about the daily realities of living under Israel's military occupation, about the impact of the Kairos Document since its launch in 2009, and the work ahead for the Kairos movement in the struggle for a just peace. | Sama Anfous | Kairos Palestine | September 2019 |
| | If they threaten our rights, we respond COLECTIVA! | Ana Carolina Lourenço from Fundación Ciudadanía Inteligente (Smart Citizen Foundation) in Chile, writes about the geopolitical, economic and social challenges facing Latin America and the need for a collective response. | Ana Carolina Lourenço | Fundación Ciudadanía Inteligente | August 2019 |
| | Abandon talks for big data rules at WTO, say over 300 CSOs | Voices from the South – June 2019 In the spring of 2019, members of the World Trade Organization (WTO) began negotiations on a binding international framework on what is known as "e-commerce".  The WTO has previously defined e-commerce rather narrowly.  Yet as the digital economy develops, the notion of e-commerce … | Kanaga Raja | Third World Network | June 2019 |
| | Still groggy after worst nightmare: A need to preserve social peace in Sri Lanka | Sri Lankan journalist Piyumi Fonseka reflects on the tragic, violent events that unfolded in Sri Lanka on Easter Sunday. Piyumi argues that the Sri Lankan state must not only both care for the victims and bring the perpetrators to justice, but it must also demonstrate that Sri Lanka will take … | Piyumi Fonseka | | April 2019 |
| | Spaces for engagement and resistance: Inside/Outside organizing in opposition to the IMF and World Bank | Ivan Phell Enrile of the APRN looks at the importance of "inside / outside" strategies on advocacy towards the IMF and World Bank; namely political organizing where activists/advocates are embedded both inside political structures and outside of them. | Ivan Phell Enrile | Asia Pacific Research Network (APRN) | March 2019 |
| | Policy vs. survival: Addressing disconnects between forced movement, international state-led processes, and immediate humanitarian needs | Conversation with Cecilia Jimenez-Damary, UN Special Rapporteur for Human Rights of Internally Displaced Persons, on disconnects between forced movement, international state-led processes, and immediate humanitarian needs. | Cecilia Jimenez-Damary | United Nations | January 2019 |
| | Kairos is us: the vision of Palestinian Christians | Rifat Kassis (Coordinator, Kairos Palestine) addresses the main challenges for Palestinian Christians today, the way ahead for global solidarity and nonviolent resistance, signs of hope, and concrete aims of the "Global Kairos for Justice" movement. The text for this month's "Voices from the South" is from the opening speech of … | Rifat Kassis | Kairos Palestine | December 2018 |
| | Struggle for water: Water for whom? | Francia Márquez (Colombia), winner of the 2018 Goldman Environmental Prize, reflects on the question of structural racism in Colombia and what should come first: drinking water for the most marginalized, or water for use in industrial projects and mining. | Francia Márquez | | November 2018 |
| | "Listen to us": Development alternatives from small-scale farmers and fisherfolk | In September 2018, over 50 small-scale farmers, fisherfolk and representatives of civil society organizations from 15 different countries met in Yaoundé, Cameroon for the International Civil Society conference on the Sustainable Development Goals (SDGs), agriculture and fisheries organized by the More and Better Network. The goal of the gathering was … | Dr. Mamadou Goïta | More and Better Network (MaB) | September 2018 |
| | Hope for a new era on the Korean Peninsula, but militarization continues – Voices from the South June / July 2018 | Sung-hee Choi of the Save Jeju campaign in South Korea reflects on the new developments on the Korean Peninsula, specifically the meetings between South and North Korea, as well as North Korea and the United States.   While Sung-hee sees signs of hope for peace in the region, she points to … | Sung-Hee Choi | Save Jeju campaign | July 2018 |
| | The Global Compact on Migration (GCM) & the Challenges to the Migrant's Movement | In December 2018, the UN is expected to formally adopt the "Global Compact for Safe, Orderly and Regular Migration (GCM)" in Morocco. The GCM will be the first global framework to comprehensively address issues related to the hundreds of millions of people in the world who change their country of … | Aaron Ceradoy | Asia Pacific Mission for Migrants | May 2018 |
| | Resistance to the 'La Colosa' gold mine – A success story from Colombia | After a 10-year nonviolent campaign coordinated by grassroots activists and international support, the town of Cajamarca in Colombia voted with a 97.9% majority to say "No" to the world's third largest mining company's (South Africa's AngloGold Ashanti) plans for the development of what was thought to become the world's fifth … | Mariana Gómez Soto | Yes to Life, No to Mining | April 2018 |
| | Locating the Voice of African Civil Society in South-South Cooperation | Mr. Edwin Rwigi (Programme Officer for the Kenyan based organization Fahamu) reflects on the recent study conducted by Fahamu on African perceptions of emerging powers on the continent. The study aimed to gauge the extent that African civil society members are working on policy issues related to the presence of … | Edwin Rwigi | Fahamu | March 2018 |
| | Building a People's Internet in Latin America | In this month's Voices from the South executive director in The Latin American Information Agency (ALAI) Sally Burch, reflects on how the major international digital corporations are controlling more and more of our daily lives, changing the power structures in society and challenging our right to privacy. ALAI calls for … | Sally Burch | The Latin American Information Agency (ALAI) | December 2017 |
| | No to war, no to economic sanctions the only solution is dialogue | In this edition of Voices from the South, we share the Iraqi Civil Society Solidarity Initiative's call for dialogue and peace in response to the tensions and conflict that followed the Referendum of the Kurdistan Region in September. The call intends to offer a means to advance dialogue and is … | Iraqi Civil Society Solidarity Initiative | ICSSI | November 2017 |
| | Creating change through women's cooperatives | In this month's Voices from the South, we meet the South African organization Ecumenical Service for Socio-Economic Transformation (Esset). Esset is an independent ecumenical organization working for gender equality and women's empowerment, with a special focus on socio-economic challenges. They promote the formation of economic and social cooperatives for women. … | Dwanu Sehlaphi Sibanda | Ecumenical Service for Social-Economic Transformation (ESSET) | October 2017 |
| | A call from Christians in Palestine | In this month's edition of "Voices from the South", we share with you a contribution from the National Coalition of Christian Organizations in Palestine (NCCOP). The NCCOP is formed as a national coordination network between a variety of Christian institutions and organizations in Palestine. In June 2017 the NCCOP issued … | Nidal Abu Zuluf | The National Coalision of Christian Organizations in Palestine (NCCOP) | August 2017 |
| | Migration in Africa in the context of climate change and terrorism | In May 2017, participants from eight African countries gathered at a regional Churches Witnessing with Migrants (CWWM) consultation held in Nairobi, Kenya. The consultation was arranged by the National Association of Women's Organizations in Uganda-NAWOU and Council for Anglican Provinces in Africa-CAPA, and aimed to paint a factual picture of … | Monica Emiru Enyou | National Association of Women's Organizations in Uganda-NAWOU | June 2017 |
| | Rojava: An experiment for a future democratic and peaceful Syria? | In the northern parts of Syria, the autonomous region known as Rojava (also known as the Democratic Administration of North Syria) has emerged as an experiment in peace, co-operation, and progressive political change in the Middle East. Since their declaration of their autonomy in 2014, the inhabitants of Rojava (primarily … | Sinam Mohammed | | May 2017 |
| | Different but same-same? Movement building in times of right-wing populism | In this month's "Voices from the South", Tetet Nera-Lauron of IBON International in the Philippines reflects on the question of how social movements and peoples' organizations can build power in times of a wave of far-right populism, a populism that is marked with protectionist governments and rhetoric, blatant xenophobia, sexism … | Tetet Nera-Lauron | IBON International | March 2017 |
| | Palestinian Christians: A presence of hope and action | Each week, Al Quds Newspaper (the largest circulation daily newspaper in the Palestinian territories), publishes a column that is authored by Kairos Palestine. The column, "A Moment of Truth," is named after the Palestinian Kairos Document that was published in 2009. In December 2016, Rifat Kassis (former coordinator for Kairos … | Rifat Kassis | Kairos Palestine | February 2017 |
| | Global resistance against injustice: Where do we go from here? | In the context of growing political, social and economic setbacks globally and regionally, as well as the deepening environmental crisis, a broad network of Brazilian social organizations and movements hosted the Social Forum of Resistances held in January 2017 in Porto Alegre, Brazil (the birthplace of the World Social Forum). … | Mauri Cruz | Forum Social des Re- sistances in Porto Alegre | January 2017 |
| | Resisting Militarization: The Making of the Film "Village vs. Empire" | Jeju Island, off the coast of South Korea, is also known as Stone Island, Peace Island, and Women's Island. It is home to no less than seven world heritage sites. But it is a paradise with dark side. Here on this tiny ecologically unique island, a village is confronting an … | Mark J Kaplan | Grey Matter Media | September 2016 |
| | Challenges to Democratization and Communication in Latin America | After a long period of social and economic progress in Latin America, new neo-liberal, right-wing governments have begun overturning a number of social and democratic protections in the region. In this month's "Voices from the South," Sally Burch of the Latin America Information Agency (ALAI) in Quito, Ecuador presents a … | Sally Burch | Latin America Information Agency (ALAI) | September 2016 |
| | Envisioning a New Syria: Declaration in the conference on the future of the Syria constitution | In late April 2016, the "Conference on the Principles of a Future Syrian Constitution" was held outside of Vienna, organized by the International Peace Initiative for Syria (IPIS). Twenty-eight Syrian participants (leaders of ethnic minority groups, experts in Law, Islamic Sheiks, representatives of women's organizations, and renowned politicians from the … | The International Peace Initiative for Syria (IPIS) | | May 2016 |
| | Nothing about us without Us: The significance of grassroots migrants' voices in the debate about migration | Eni Lestari of the International Migrants Alliance (IMA) speaks of her experience as an Indonesian domestic worker in Hong Kong, and of the necessity to amplify the voices of migrant communities in settings where migration is debated. She argues that most international and governmental platforms that address migration are detached … | Eni Lestari | International Migrants Alliance (IMA) | March 2016 |
| | Signs of Hope in Iraq: Labor Movements and Social Movements Stand Together to Pass Labor Law | labor law, marking a victory for labor unions, workers and civil society groups who have fought for a legal framework that would protect the interests of workers for over 10 years. The labor law is considered among the best labor legislations in the entire region, is compatible with international labor … | Wesam Chaseb Oudah | Solidarity Center | February 2016 |
| | The Church's Role in the Age of Terrorism and Economic Globalization | In this month's "Voices from the South," former Africa Coordinator for the UN Millennium Development Goals and former Anglican observer to the UN, Hellen Grace Akwii-Wangusa from Uganda, reflects on the state of changing global power dynamics. In particular, she looks at the role of the Church in an age … | Hellen Grace Akwii-Wangusa | | December 2015 |
| | "We are not drowning. We are fighting." Reflections on climate justice ahead of COP21 | Ahead of the UN Climate Change Conference (COP21) that begins in Paris this week, more than 600.000 people in 175 countries around the world have taken to the streets to call for a strong deal that will see a swift transition from fossil fuels to renewable energy. In Oslo, the … | Marjorie Pamintuan | Asia Pacific Research Network (APRN) | November 2015 |
| | Refugee Crisis in Europe: The Middle East Council of Churches' Point of View | This month's newsletter features excerpts from a recent speech by Fr. Dr. Michel Jalakh, Secretary General of the Middle East Council of Churches (MECC), entitled "Refugee Crisis in Europe: The Middle East Council of Churches' Point of View". The speech was held at the Nordic Ecumenical Network on Migration gathering … | Fr. Dr. Michel Jalakh | Middle East Council of Churches (MECC) | October 2015 |
| | Towards a World Without Empire:The Imperative of Interfaith Solidarity | With its roots connected to the "International Ecumenical Conference on Terrorism in a Globalised World" that was held in September 2002, the People's Forum on Peace for Life is an interfaith movement for peace and justice, which resists imperialism, economic globalization and militarism—in all their forms and in all places … | Carmencita Karagdag | Coordinator, Peace for Life | October 2015 |
| | TISA and TPP: Trade unions and social movements resist unfair trade deals | Governments around the globe are currently engaged in the biggest burst of trade and investment treaty negotiations since the 1990s. This new wave of trade deals is primarily being negotiated by governments and corporations in complete secrecy, and is being conducted entirely outside the framework of the World Trade Organization. … | Oscar Rodríguez | Public Services Inter- national / Our World Is Not For Sale | September 2015 |
| | Kairos 30th Anniversary Statement: Dangerous Memory and Hope for the Future | "May your movement — our movement — continue to grow in strength and spirit." These words were written by Archbishop Desmond Tutu, welcoming participants of the 30 year anniversary conference of the South African Kairos document to Johannesburg in August 2015. The conference commemorated and celebrated the 30th Anniversary of … | Rev. Edwin Arrison | Kairos Southern Africa | August 2015 |
| | African Renaissiance: The Next Generation | In June 2015, 33 young people from across the African continent came together in Senegal for a week-long "Youth Advocacy Summit". The training session in advocacy strategy and planning was part of the African Alliance of YMCAs "Subject 2 Citizen" (S2C) Ambassadors initiative. S2C aims to move youth to a … | Cedric Dzelu | The Africa Alliance of YMCAs (AAYMCA) | June 2015 |
| | Acknowledging the Nakba and Struggling for Justice: Jewish South Africans travel to Lubya | In June 2013, the documentary film "The Village Under the Forest" had its world premiere in Cape Town, South Africa. The film, by Jewish South Africans Mark J. Kaplan and Heidi Grunebaum, presents an example of how a Jewish diaspora has been implicated in the erasure of the memory of … | Heidi Grunebaum | Centre for Humanities Re- search, University of the West- ern Cape | May 2015 |
| | Measuring Development Inaccurately What the UN's Post-2015 Sustainable Development Goals (SDGs) Should Be Measuring | With the expiration of the UN's Millennium Development Goals (MDGs) of power, distribution, in 2015, the UN is now preparing to usher in a new era with the launch- ing of the new Sustainable Development Goals (SDGs). 17 goals and 169 targets have now been drafted, and they are all … | Tetet Lauron | IBON International | April 2015 |
| | A New Cartography of Africa: Alternative maps lift the "unseen" of Africa | In March 2015, African publishing houses Chimurenga (South Africa) and Kwani? (Kenya) finalized a joint project that explored the links between contemporary Africa, the maps we use to show it, and how these maps don't always reflect what is actually happening on the ground for Africans. The project was based … | Ntone Edjabe | Founder, Chimurenga | March 2015 |
| | The World Social Forum: Building Alternative Forms of Globalization | From March 24-28, 2015, social movements and activists from around the world will be gathering in Tunis, Tunisia to participate in the upcoming World Social Forum (WSF). With a shared mission that "Another World Is Possible," the WSF serves as an open meeting place for social movements, networks, NGOs and … | Thomas Ponniah | Affiliate of the David Rockefeller Center for Latin American Studies | February 2015 |
| | #JeSuisCharlie: Challenges after the Charlie Hebdo shootings | Following the gruesome and unjustifiable violence that rocked Paris earlier this month by Islamic extremists, global media attention and discourse quickly focused on the challenges related to extremism, freedom of expression, and the use of violence. Around the world, the hashtag #JeSuisCharlie ("I am Charlie") become a visible symbol of … | Carlos Sanvee | General Secretary, AAYMCA (Kenya) | January 2015 |
| | The Missing "Peaces": Highlights from Karibu Seminar on the Limitations of the Global North's Peace Agenda | Norway, along with many other nations in the Global North, often describes itself as being committed to an international peace and development agenda. This is demonstrated in a variety of approaches, ranging from humanitarian intervention and military support, to supporting peace negotiations, to providing humanitarian assistance in crisis areas, to … | Beverly Keene (Jubilee South, Argentina), Michel Nseir (World Council of Churches, Lebanon/Switzerland), Kolade Fadahunsi (Kairos Nigeria, Nigeria), Nadia al-Baghdady ( Iraqi Social Forum, Iraq) | | November 2014 |
| | Kairos Palestine After 5 Years | An Interview with Rifat Kassis, General Coordinator of Kairos Palestine Dear , In December 2009, the "Kairos Palestine" document was launched by a broad coalition of Christian leaders in the Holy Land. Described as the "Christian Palestinians' word to the world about what is happening in Palestine," the document has … | Rifat Kassis | Coordinator of Kairos Palestine | September 2014 |
| | Threats to Women's Rights and Dignity: Tourism and Gender in Africa | It is estimated that one out of every 20 jobs on the African continent is related to tourism, especially in key tourism countries and attractions such as those found in Kenya, Zimbabwe, Zambia, Egypt, Mali, South Africa, Rwanda, Uganda and Tanzania. Being a predominantly male-dominated industry, however, with a high … | Omega Bula | Lusaka, Zambia | August 2014 |
| | A Call for Positive and Constructive Social Action in Iraq | The Iraqi Social Forum releases unity statement amidst growing violence in Iraq, and invites to Oslo conference Nov 2-4, 2014 Since January 2014, the UN estimates that around 1.2 million people have been uprooted in Iraq due to fighting between insurgents from Islamic State of Iraq and al-Sham (ISIS), local … | The National Committee of the Iraqi Social Forum | For media or journalist in- quires on the situation, contact Nadia al-Baghdady (ISF Secre- tariat, Baghdad) | July 2014 |
| | What's Next for South Africa? Struggling for Justice 20 Years After 1994 | On April 27th, 1994, South Africans of all ethnic backgrounds were given the historic right to vote for their future as the apartheid regime fell. On May 7th of this year, South Africans are again going to the polls, though in a different political climate than 20 years before. The … | Rev. Edwin Arrison | General Secretary, Kairos Southern Africa | April 2014 |
| | Call for Peace in Syria Statement of the "All Sides Consultation for a Political Solution in Syria" | The International Peace Initiative for Syria is a network of academics, human rights activists and cultural and public front figures that wishes to support and encourage initiatives that can lead to the opening of a national dialogue between the main political and social forces involved in the ongoing armed conflict … | The International Peace Ini- tiative for Syria (IPIS) | | March 2014 |
| | A Just Peace in the Wake of Dictatorship | An Interview with Nobel Peace Laureate Adolfo Pérez Esquivel and "Mothers of May Square-Founders´Line" member Nora Morales de Cortiñas The Argentine dictatorship from 1976-1983 is widely recognized as one of the bloodiest historical episodes of 20th century Latin America. Similar to other trends in the region at the time, the … | The Karibu Foundation | | March 2014 |
| | US-Philippines Relations: Resurgent Neocolonialsm | In January 2014, participants from around the world met in Davao City, the Philippines for an international conference on "US Intervention in the Affairs of Sovereign Nations: Ecumenical-Theological Perspectives." The conference was coordinated by the Ecumenical Bishops Forum (EBF), a fellowship of Filipino bishops who have a common goal of … | Sonny Africa | Executive Director, IBON Foundation | February 2014 |
| | Transformative Resistance: Addressing structures of power and injustice | Around the world, grassroots movements, civil society organizations, and global citizens are joining together in their struggle to create a just world. They are utilizing strategic and creative non-violent methods against particular powers, forces, policies, regimes, and economic systems that uphold systems of dominance and injustice. In this month's "Voices … | Ranjan Solomon | Director, Badayl-Alternatives | January 2014 |
| | Democratizing Communication for Latin American People's Integration | Latin American integration is a term that is often used when discussing various models of unity, political and economic sovereignty, and sustainable development between peoples and countries in the diverse and vibrant region. After a long history of colonization and control by foreign actors, a unified and integrated Latin America … | Sally Burch | Agencia Latinoamericana de Información (ALAI) | November 2013 |
| | Stop Expansion of the WTO! Call to Action for World Trade Organization (WTO) Misterial Conference in Bali | In December 2013, official delegations from around the world will meet in Bali, Indonesia for the 9th World Trade Organization (WTO) Ministerial Conference. The Ministerial is the topmost decision-making body of the WTO, and the main topic on the agenda in Bali will focus on the future of the so-called … | Our World Is Not For Sale | | October 2013 |
| | South South Cooperation and Aid Policy: A Reflection on the UN Day for South-South Cooperation 2013 | Each year, September 12th is marked by the United Nation as the "UN Day for South-South Cooperation," a day identified by the international community to lift up countries in the Global South in their collective and individual pursuit of sustainable and inclusive development. The UN notes that SouthSouth cooperation, if … | Demba Moussa Dembele | Association for Research and Cooperation in Support of Endogenous Development (ARCADE) | September 2013 |
| | The Making of the "Village Under The Forest" | Unfolding as a personal meditation from the Jewish Diaspora, "The Village Under The Forest" is a new documentary that explores the hidden remains of the destroyed Palestinian village of Lubya, which lies under a purposefully cultivated forest plantation called the South Africa Forest. Using the forest and the village ruins … | Heidi Grunebaum | Writer and Narrator, "The Village Under the Forest". | August 2013 |
| | Striving Together for Climate Justice | As social movements and churches from around the world come together in the struggle against climate change, movements in the Global South offer a crucial voice: They often represent the vulnerable communities who are already living the devastating effects of climate change, yet they have contributed the least to the … | Dr. Guillermo Kerber | By Dr. Guillermo Kerber Coordinator, Programme on Care for Creation and Climate Justice, World Council of Churches (WCC) | June 2013 |
| | Towards the African Renaissance: A Young Voice on the Transformation from a Subject to a Citizen | Although the notion of an African Renaissance is not a new idea, young voices from across the continent continue to carry the call for a philosophical and political movement to end the violence, elitism, corruption and poverty that seem to plague the African continent. In this month's "Voices from the … | Raymond Ncube | Subject 2 Citizen (S2C) Ambassador, Zimbabwe | May 2013 |
| | Stop Outsourcing Peace: Control the use of Private Military and Security Companies (PMSCs) | Hired by governments and companies to perform operations previously carried out by national military forces, Private Military and Security Companies (PMSCs) are the modern equivalent of mercenaries: armed civilians operating for profit in conflict zones. In this month's Voices from the South, Ismaeel Dawood of Karibu partner the Iraqi Civil … | Ismaeel Dawood | Policy and Advocacy Officer for the Iraqi Civil Society Solidarity Initiative (ICSSI) and Un Ponte Per (UPP) | April 2013 |
| | Peace as the Fruit of Justice: Social Organization and the Peace Process in Colombia | On March 20th, negotiators from Colombia's government and the Revolutionary Armed Forces of Colombia (FARC) guerrilla group closed another round of peace talks in Havana without reaching a much-anticipated deal on one of the peace talks six primary points. In a joint communiqué released earlier this month, the two sides … | Rev. Milton Meija | The Programme for Ecumenical Accompaniment in Colombia (PEAC) | March 2013 |
| | Current Stuctures on Migration and Development: The need for rights-based frame and wider grassroots participation | According to most estimates, there are currently more than 215 million people (ca 3% of the world's population) working and living outside their country of birth. These numbers have doubled in the last 50 years, and continue to rise as global economic conditions, demographic forces, globalization, and climate change have … | Ramon Bultron | Asia Pacific Mission for Migrants (APMM) | February 2013 |
| | Safe Space is a Woman's Human Right: reflections on the new delhi rape case and global systems of violence and discrimination against women | In this month's "Voices from the South," Leila Passah, National General Secretary of the YWCA of India, reflects on the chilling gang-rape case of a young medical student in New Delhi, and the culture of violence and discrimination against women everywhere. "Enough is enough," she writes. "Now is the time … | Leila Passah | National General Secretary YWCA of India | January 2013 |
| | Christmas, Peace, and the Wall: The Segregation Wall and Checkpoints in and around Bethlehem | As the Christmas season begins in many parts of the world, hearts and minds turn to the Palestinian city of Bethlehem: the focal geographic point of the Christmas narrative. Yet today, this not-so-little town is sieged by a tightening separation wall, checkpoints, and a system of control brought on by … | Rev. Dr. Mitri Raheb | Kairos Palestine | December 2012 |
| | The Franc Zone of Western and Central Africa: A Symbol of French Neo-Colonialism | Since the independence of many African states in the early 1960, the role of policies and financial institutions inherited from colonial powers has been the subject of much debate. One central area of focus is related to the so-called Franc Zone; 14 countries in Western and Central Africa that share … | Demba Moussa Dembele | Association for Research and Cooperation in Support of Endogenous Development (ARCADE) | November 2012 |
| | Safeguarding Human Rights, Life, and Dignity: Ending the Culture of Impunity | In the mid-1980s, during the dictatorship of Ferdinand Marcos, a group of Bishops representing various denominations across the Philippines formed the Ecumenical Bishops Forum (EBF): a gathering of religious leaders who were willing to speak out against the countless human rights abuses occurring under the oppressive regime. 28 years later, … | Bishop Solito K. Toquero | Ecumenical Bishops Forum | October 2012 |
| | Toward a Solidarity Economy: The Case of Informal Traders in Southern Africa | According to recent reports of the United Nations Economic Commission for Africa, informal trading is the main source of job creation in Africa, providing between 20 to 75 percent of total employment in a majority of African countries. These numbers are even higher in the Southern African Development Community (SADC). … | Thembela Njenga | Ecumenical Service for Socio-Economic Transformation (ESSET) | September 2012 |
| | Critiquing the Global Forum on Migration and Development (GFMD) and Organizing Migrants | Launched in 2006, the Global Forum on Migration and Development (GFMD) is an UN initiative which seeks to provide a venue for "dialogue and partnerships" among governments and other stakeholders in order to develop policy which "maximizes migration's development benefits while minimizing its negative impacts." From its first meeting, however, … | Ramon Bultron | Asia Pacific Mission for Migrants (APMM) | August 2012 |
| | Shaping a New World: Statement from the South Asia School of Human Rights | In this month's edition of "Voices from the South," we present some of the highlights of the final declaration of the South Asia School of Human Rights, an education and advocacy initiative of the Student Christian Movement of India (SCMI). The school took place in Bangalore, India over a 9-day … | South Asia School of Human Rights | Student Christian Movement of India (SCMI) | July 2012 |
| | Asia Pacific Peoples' Declaration on Rio+20 | In early June 2012, civil society representatives from 18 Asia Pacific countries gathered in Vietnam for a coordinated advocacy and research event in connection with the upcoming UN conference on sustainable development ("Rio+20") taking place in Brazil. The gathering, entitled "Rio for People: Strengthening People's Capacity for Genuine Sustainable Development," … | Asia Pacific Research Network (APRN) | | June 2012 |
| | Nigerian Instability: An Effective Arms Trade Treaty is the Answer | Small arms and light weapons have been called the "weapon of mass destruction of the poor". These and other conventional arms kill, injure, and tear up families and communities across the world. They prolong armed conflicts, and fuel poverty. But unlike the trade in other items, like food or drugs, … | Rev. Kolade Fadahunsi | Churches in Action For Peace and Development (CAPAD) | May 2012 |
| | Tourism: A Call for Justice. A Call to Churches | As part of the Karibu Foundation's 2012 theme of Justice Tourism and Pilgrimages, Caesar D'Mello, former Executive Director of the Ecumenical Coalition On Tourism (ECOT), reflects on the impact of tourism on the poor and oppressed, and the necessity for a church-based response. | Caesar D'Mello | Ecumenical Coalition on Tourism | April 2012 |
| | A Word to the ANC | In early 2012, Kairos Southern Africa drafted a critical letter to the leadership of the African National Congress (ANC) in South Africa. Rev. Edwin Arrison, coordinator of Kairos Southern Africa, talks to Karibu about the letter, Kairos' meeting with ANC leadership, and their 1-million signature campaign. | Rev. Edwin Arrison | Kairos Southern Africa | March 2012 |
| | Holy Sites and Unholy Sights: An Indian Dalit's Reflections on Power and Dominance in Palestine and India | The first edition of The Karibu Foundation's monthly e-newsletter explores an Indian Dalit theologian's reflections on power and dominance in India and Palestine in an article entitled "Holy Sites and Unholy Sights". | Rev. Raj Bharath Patta | General Secretary of the Student Christian Movement of India and a Dalit theologian | January 2012 |