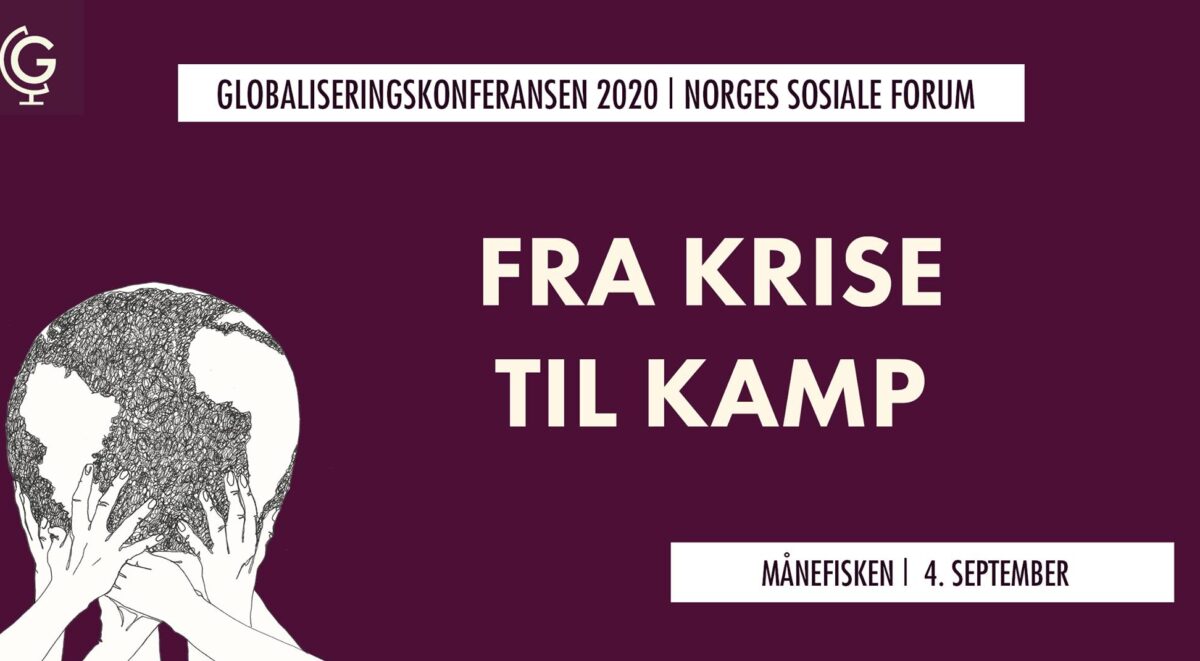 Several of Karibu's partner organizations will be contributing to the upcoming Norwegian Social Forum, from 4.-6. September.
The theme of the 2020 forum is "From Crisis to Struggle," with focus on peoples' mobilization for change. Due to COVID-19 restraints, the forum will primarily take place online (streamed). A limited number of tickets are available for physical participation in some of the events, held at Månefisken in Oslo.
On Friday, 4. September (14:00 Oslo time) – Sahar Verdi (Israel) and Hellen Wangusa (Uganda) will be contributing to the plenary meeting on "Crisis, democracy, and social movements: Where do we stand after COVID-19".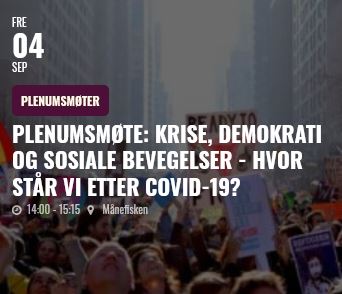 In the year before the outbreak of the corona, we saw large popular movements gather against power in many countries around the world, from Chile and Brazil to Hong Kong and Lebanon. For many, they were an inspiration to each other, even though they fought independent battles. Then came the corona. How does this affect us and what do we do now?
Later that day, at 18:00 Oslo time, Parminder Jeet Singh (India – Just Net Coalition) will be contributing to the plenary meeting on "Criticism of globalization in the digital world: Big data, technology giants and counter-force".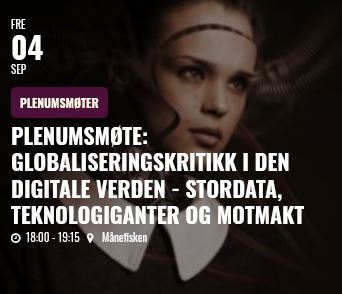 During Corona, most people have had to change their lives to digital platforms at a high pace. We send and share information and data at an enormous speed. Everything from work to activism, socializing and marital breakdown takes place online. The world is becoming increasingly digital, and technology giants Facebook, Apple and Amazon have almost doubled their profits during the pandemic. Their power over society is growing at the same rate; How have these technology giants been given a place at the top of society's throne? How can we regain democratic control in the digital world? What can we learn from the globalization-critical movement of the 1990s and the Occupy movement after the financial crisis? How do we mobilize to a new wave of opposition to such globalization, and gain traction?
On Sunday, Sept 6th (12:00 pm) – Deborah James (Our World Is Not For Sale) will be speaking on an online event entitled "Trade and investment towards people and the environment".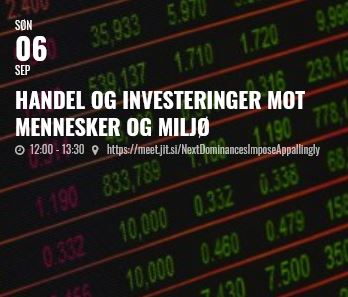 Today's trade and investment agreements put the interests of large companies ahead of people and the environment. What can we do?
At this meeting, we will both look at why current trade and investment agreements are harmful to the environment and climate, what has happened under COVID-19, and discuss solutions. What are the alternatives to the current trade regime? What can trade agreements that put people and the environment first look like?
Links for the streamed events will be hosted here as they become available.
The entire program for the 2020 Norwegian Social Forum (primarily in Norwegian) can be found here: globalisering.no/program