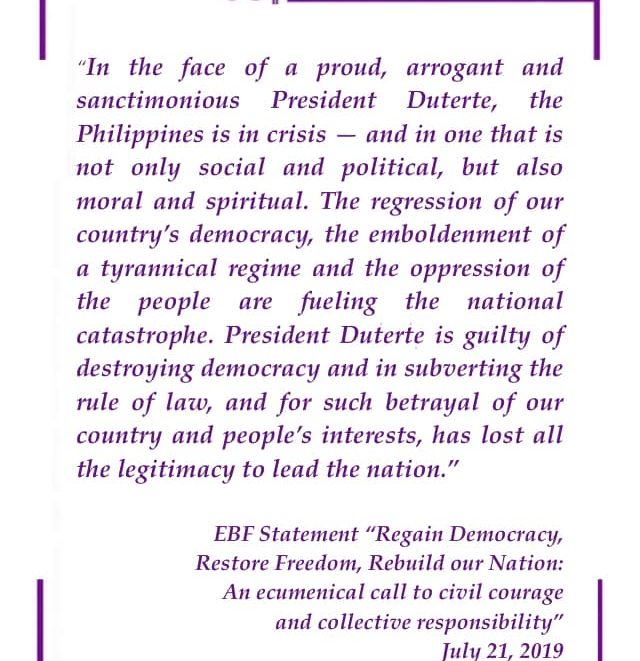 The Ecumenical Bishops Forum (EBF), a fellowship of Filipino/a bishops working to address current socio-political, economic and cultural issues that confront the Filipino Nation, have issued a statement on the occasion of President Rodrigo Duterte's "State of the Nation Address" in late July 2019. Here they call for the Filipino people to muster courage and rediscover collective responsibility for the nation's welfare, in the face of human rights violations, extrajudicial killings, grave inequality and foreign intervention.
EBF's statement is found below:
Regain Democracy, Restore Freedom, Rebuild our Nation: An ecumenical call to civil courage and collective responsibility
July 21, 2019
"Our nation has been bleeding and our people suffering through one of the most trying periods in our history. The oppressive policies of the government led by President Rodrigo Duterte have brought about the further deterioration of democracy in our country and have continued to deny our people their rights. The vision of a country where peace and justice reigns, sovereignty is cherished and human rights are upheld, more and more apparently each day, has been sliding into oblivion with President Duterte's failure to fulfill his election promises.
Opposite the welfare of the Filipino people, this government has offered a scorched-earth response to legitimate dissent and principled grievances, especially from indigenous peoples, the urban poor, the farmers and workers, and human rights defenders. It has been preoccupying itself with petty and inconsequential feuds with individuals expressing alternative views and belonging to other political affiliations, while skirting the crucial conversations on human rights violations, extrajudicial killings, grave inequality and foreign intervention.
Militarism is on the rise, with the police and military institutions systematizing and normalizing violence. The corridors of government now wreak of bureaucratic corruption, partisan politics, the betrayal of public trust and the sell-out of the nation's sovereignty. The holy name of God is unceasingly mocked with the continuing defamation of the Church and the targeting of bishops, priests, pastors, religious, church workers and the faithful.
A despotic and dictatorial regime has been reborn, betraying a once hopeful Filipino people. In the cusps of a spiteful leadership, we witness the desecration of human life and dignity, and warps the values of truth, justice and peace. President Duterte has exhibited little respect for the rule of law and has repeatedly trampled upon the liberties guaranteed by the Constitution. He has abused his authority in pursuit of his self-interest at the very expense of the general welfare of the people.
In the face of a proud, arrogant and sanctimonious President Duterte, the Philippines is in crisis — and in one that is not only social and political, but also moral and spiritual. The regression of our country's democracy, the emboldenment of a tyrannical regime and the oppression of the people are fueling the national catastrophe. President Duterte is guilty of destroying democracy and in subverting the rule of law, and for such betrayal of our country and people's interest, has lost all the legitimacy to lead the nation."
In these times, the Filipino people are summoned to muster courage and rediscover collective responsibility for our nation's welfare. We must not cower against evil and stand up against it. We must speak out for positive change and genuine reforms to regain our country's democracy, restore our people's freedom and rebuild our nation. It is about time to go the way of the vinedresser: "Lo, these three years I have come seeking fruit on this fig tree, and I found none. Cut it down; why should it use the ground." (Luke 13:7)
EBF Executive Board,
Bishop Deogracias Iniguez Jr
Roman Catholic Church
Bishop Rex Reyes Jr
Episcopal Church in the Philippines
Bishop Joel Tendero
United Church of Christ in the Philippines
Bishop Dindo Ranojo
Iglesia Filipina Independiente
Bishop Ciriaco Francisco
United Methodist Church