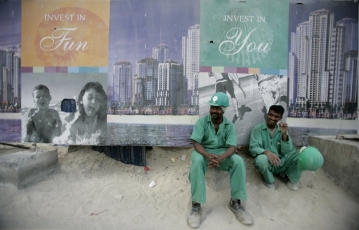 Title: Current Stuctures on Migration and Development: The need for rights-based frame and wider grassroots participation
Author: Ramon Bultron, Asia Pacific Mission for Migrants (APMM)
Voices from the South E-Newsletter: February 2013
Description:
According to most estimates, there are currently more than 215 million people (ca 3% of the world's population) working and living outside their country of birth. These numbers have doubled in the last 50 years, and continue to rise as global economic conditions, demographic forces, globalization, and climate change have exacerbated migration pressures within both "sending" and "receiving" countries.
Questions related to international human mobility have therefore been given increasing attention on the global political agenda, as international migration impacts the economic, political, cultural, and social landscape of many countries. Especially in the last decade, a number of international political initiatives have been undertaken to respond to challenges posed by international migration. Yet more often than not, these state-centered initiatives focus on strengthening inter-state cooperation on international migration rather than addressing the need for genuine human development, dignity, and rights for migrant communities.
In this month's Voices from the South, Ramon Bultron – director of Karibu partner the Asia Pacific Mission for Migrants (APMM) – critically reflects on the modern international architecture related to migration and development, current global models which commoditify human labor, and vital need for rights-based systems and structures that support the inalienable rights of migrant communities.
This article will be the first of several throughout the year related to international migration and development, the advocacy focus of the Karibu Foundation in 2013.
Download PDF: