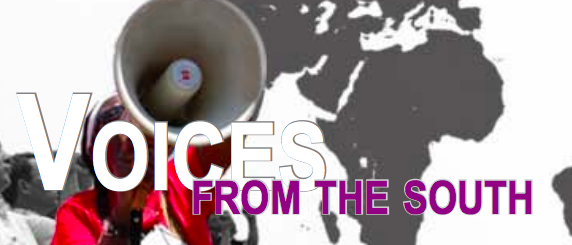 Title: Stop Expansion of the WTO! Call to Action for World Trade Organization (WTO) Misterial Conference in Bali
Author: Our World Is Not For Sale,
Voices from the South E-Newsletter: October 2013
Description:
In December 2013, official delegations from around the world will meet in Bali,
Indonesia for the 9th World Trade Organization (WTO) Ministerial Conference.
The Ministerial is the topmost decision-making body of the WTO, and the main
topic on the agenda in Bali will focus on the future of the so-called "Doha Development Round," a series of trade negotiations that have been stalled since 2008. While
a vast majority of countries in the Global South have called for the abandonment
of the Doha rounds and for the correction of imbalances within the existing WTO
structures, many wealthy countries continue to push aside such demands, instead
focusing on corporate interests and the expansion of global trade rules that rule in
the favor of world's most wealthy.
This month's "Voices from the South" highlights a number of excerpts from the Call
to Action on the Bali Ministerial from Karibu partner Our World Is Not For Sale
(OWINFS). The Call to Action focuses on three main demands: 1.) the ending of
the expansion of the WTO, 2.) the necessity for an alternative trade agenda, and
3.) the need for a change in Global Trade Systems that will works for the rights of
the global 99%.
Download PDF: