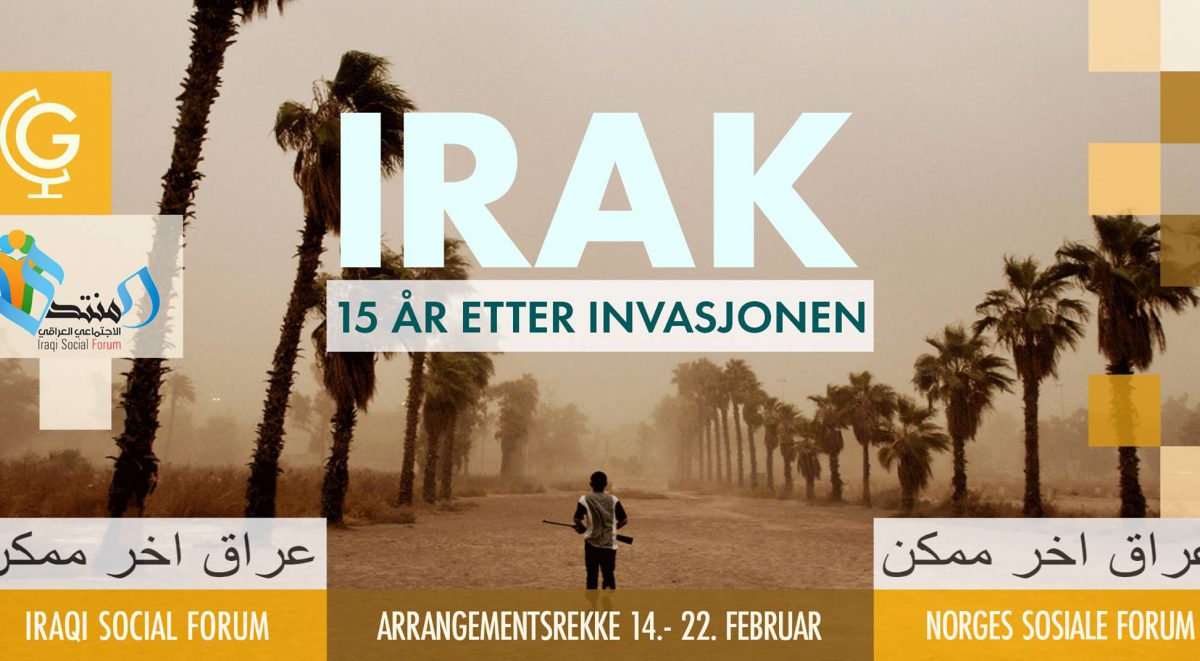 A delegation from Karibu-partner the Iraqi Social Forum (ISF) will visit Oslo in February for a series of events to commemorate the 15 Year Anniversary of the Iraq War.   Below you will fine more information about the events taking place across the city. 
The Norwegian Social Forum (NSF) and the Iraqi Social Forum (ISF) invite you to an event series in Oslo (14th, 29th-22nd. February) about the Iraq war and protests against it, peace-building, the fight for resources, and equality and feminism in Iraq.
14th of February at 19.00 at Litteraturhuset (Oslo)
The invasion, counter demonstrations and the world today:
70,000 people demonstrated in Oslo's streets against the Iraq war. Where do we stand 15 years later? Why was Iraq invaded and what was wrong? What created that enormous commitment? How has the collapse in Iraq affected the rest of the region and the world?
With: Erling Borgen, documentary and activist,
Colonel Lieutenant Tormod Heier, winner of the Ossietz award 2017
Rania Al-Nahi, Norwegian-Iraqi Social Debate
Link: https://www.facebook.com/events/1685729341484491/
February 19th 19.00 at Activity House K1 (Volunteer House)
Meet Iraq's Social Forum (ISF): How to Build Peace and Stable Democracy:
Activists from the Iraqi grassroots movement tell about the processes and challenges in the reconstruction of the Iraqi society.
With: Liv Torres, Director of the Nobel Peace Center | Nobel Peace Center, former Secretary General of Norwegian People's Aid
From ISF: Ali Bakht Al-Tamimi, Ali Sahib, Jinan Sliwo Yokhnna, Ruaa Khalaf
Link: https://www.facebook.com/events/334681650349714/
February 20th at 12.00 at the University of Oslo (UiO) Eilert Sundt's house
Luncheon seminar: The struggle for resources:
Oil and water are limited and controversial resources in Iraq. Who has access to the resources, and who should the wealth from the resources fall?
With: Ali Sahib, leader of Iraq's Social Forum
Ismael Dawood, Siv.sam-chef, Un ponte per
representatives from Norwegian and Iraqi civil society
In cooperation with Fivas – Association for International Water Studies and Norwegian People's Aid Solidarity Youth Blindern
Link: https://www.facebook.com/events/408275899614651/
February 21st at 08.00 at Kulturhuset (Oslo)
Breakfast Seminar: Equality and feminism in Iraq:
Women's struggle and women's liberation are a key part of community building and lasting peace in Iraq. Central people from Iraqi and Norwegian women's movements discuss women's struggle and peace processes in the Middle East.
With: Jinan Sliwo Yokhnna, Ashur, Organization for Women's Rights
Ruaa Khalaf, Women's Trade Union Forum
Link: https://www.facebook.com/events/1608151539301080/
February 22nd at 17:00, University of Oslo (UiO) Arne Næss' auditorium
Film screening: Nowhere to Hide (2017) and introduction by director
We are in Northern Iraq, in the area of ​​"Triangle of Death". We met the nurse and four-year-old Nori Sharif, thinking the American forces are withdrawing from the country. But the hope of peace and reconstruction snuffs to a new and worse war – one that breaks all taboos and where you can not divorce friend from enemy. There are no safe hiding places. How are Nori and the family doing?
Conversation with director Zaradasht Ahmed and Ali Bakht Al-Tamimi
In collaboration with the Babel film club.