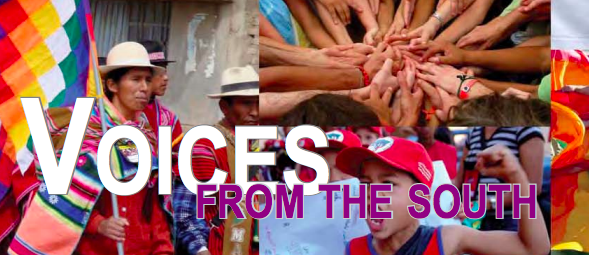 Title: Democratizing Communication for Latin American People's Integration
Author: Sally Burch, Agencia Latinoamericana de Información (ALAI)
Voices from the South E-Newsletter: November 2013
Description:
Latin American integration is a term that is often used when discussing
various models of unity, political and economic sovereignty, and sustainable development between peoples and countries in the diverse and vibrant
region. After a long history of colonization and control by foreign actors,
a unified and integrated Latin America places particular emphasis on the
rights of peoples and their social and political participation, and envisions
a Latin America that reduces its dependency on, and alignment with, powers in the Global North. One mechanism towards and characteristic of
such regional integration is access to democratic and independent media
and communication sources.
In November 2013, representatives from regional peoples' rights organizations and movements, together with representatives of alternative, community and popular media networks from across Latin America, met in
Ecuador in order to explore the question of communication and media as
a tool for social struggle in the region. In this month's "Voices from the
South," Sally Burch of the Latin American Information Agency (ALAI)
discusses these meetings, the need to challenge social conformity, and the
necessity of strengthening alternative regional information strategies in order to actualize a regional integration that is anchored in the rights and
sovereignty of the Latin American people.
Download PDF: